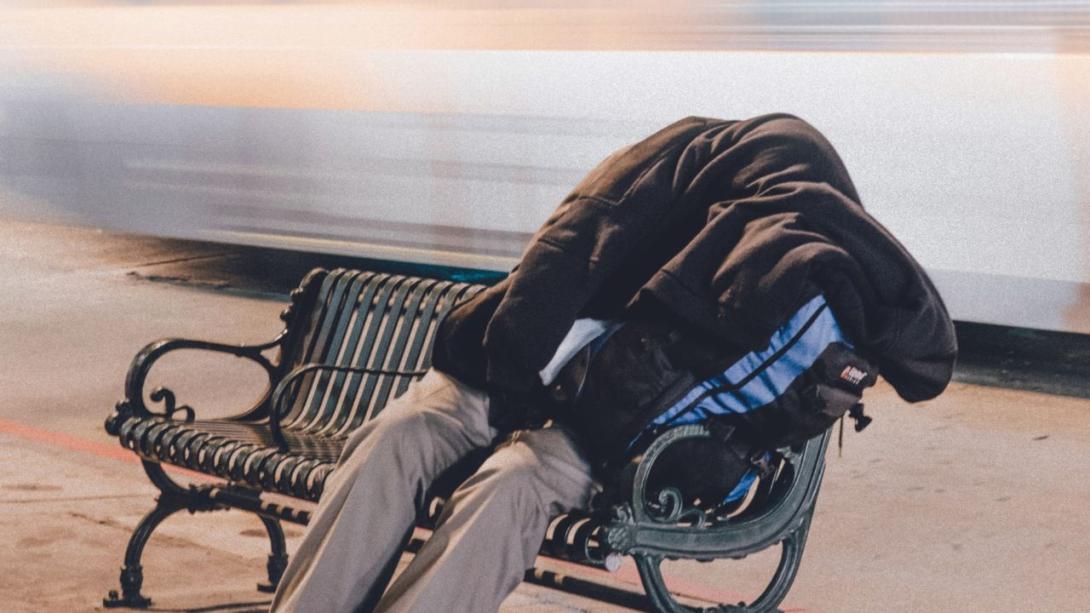 Skid Row for many is the saddest area in Los Angeles, a center of poverty, and refuge of thousands of homeless. Yet for 22-year-old John Dillon, in 1984 it was the perfect place for opening, with his own money, a food and clothing distribution center named Chrysalis. .
Pretty soon, however, he realized that he was giving out band-aids rather than solving long-term problems, since even more than food or clothing, people needed to regain their dignity and a meaningful life that had been lost to drugs, violence,
family tragedies.
In John's vision only a steady job, able to guarantee long-term self-sufficiency, could make the transformation possible. In 1991 Chrysalis became the protective cocoon where previous inmates, addicts and dealers, orphans and divorcees could leave the street and their heavy past behind and transform themselves from a caterpillar to a butterfly.
The engine of transformation is a job. In 38 years of activity, Chrysalis has served and inspired more than 74,000 low-income and homeless individuals to learn how to be self-sufficient in the long term and become a "butterfly," a human being.
An enthusiastic staff and hundreds of volunteers accompany marginalized people navigating barriers to the workforce by offering a job-readiness program, individualized supportive services and paid transitional employment.
"Empower our clients on their pathway to stability, security and fulfillment in their work and lives means helping to write a proper resume, practicing job interviews or providing professional attire and hygiene items," explains one of the volunteers.
Beneath all that work is the core value of treating each human being with dignity and respect. They are clients, customers, and never homeless, poor or people of color. The language and words used during the service make Chrysalis an open space of acceptance and welcome for Black and indigenous — whoever has been impacted by systemic injustices.
A touch of hope
Michael was involved with gangs and drugs for several years. During one particular detour — his last sentence of three-and-a-half years in prison — Michael received word of his mother's passing. He couldn't attend the funeral.
"You never know what can happen while you're in there," he says. Upon his release, he was more motivated than ever to take the wheel when it came to his future.
Chrysalis was that wheel. Michael attended a presentation about the organization at his parole office, and he recalls being inspired by the photos of clients with the Success Bell that decorated the center's walls of the headquarters in Los Angeles.
"I was fresh out of prison and thought this might be something that could be really beneficial to me. That's not something you can fabricate — that just gave me a lot of hope."
After attending orientation, Michael dove into Chrysalis' job readiness classes and he also attended "Convictions & the Job Search," a supplemental class that prepares clients with a background to talk about their pasts honestly with potential employers, while highlighting experience and skills they may have developed while serving time.
Right away, Michael got to work on a personalized service plan with support from a Chrysalis employment specialist.
"The challenge for most clients is that our programs are completely voluntary, self-motivated and self-directed, so it's daunting. People have to walk in with the mindset that they're ready to change and find work. Society may have turned its back on them a few times, so we are there to offer support and figure out what work they can and want to do. I really give these clients credit for coming back, because it takes courage," says Mark Loranger, who replaced John as CEO of the organization.
The dignity of work. Jobs help homeless to develop skills and self-esteem
Training on the job
Chrysalis puts its program into action by maintaining labor-intensive social enterprises that employ its clients. These maintenance transitional jobs include street-cleaning, graffiti removal, and pressure-washing service Chrysalis Works, which operates in the business improvement, arts, and fashion districts.
The staffing business Chrysalis Enterprises provides employees for janitorial and front-desk jobs at 15 public institutions. Through these social companies, Chrysalis learns how to improve its job training classes, and clients learn how to process their paychecks, develop coworker relationships and learn vocational skills.
The other challenge for the association is finding employers who are open to working with people who have criminal or transient backgrounds. Although Chrysalis doesn't serve as an intermediary between the clients and potential employers, there are some cases in which they've had to explain strategies and ways of handling challenges that both employers and employees might face. But overall, they try to empower both the employee and the employer to find solutions within themselves.
"We work with small local businesses, and we make personal connections with the owners, humanizing homelessness by explaining that our people are real people with real families and real issues, and they are hard workers who just need a hand up, not a handout," Loranger adds.
In March 2019, due to COVID-19, Chrysalis transitioned to remote work and services, facilitating classes and one-on-ones virtually. Through an individualized approach and added support, over 4,800 individuals used in-person and remote services and still now most of them are still remote.
To support the programs Chrysalis hosts several events, including the famous Chrysalis Butterfly Ball, which is attended by more than 700 guests every year, and the Chrysalis Night, an evening of inspiring stories that in 2021saw the participation of many celebrities, including Robert De Niro.
The project expands
After decades of changing lives through jobs in Downtown Los Angeles, the organization has opened other three centers in San Fernando Valley, Santa Monica, and the latest in Orange County in 2018. It's proof that their model works.
"We believe every client has the opportunity to succeed, regardless of their past" is the motto of this amazing social experiment, and Flomanda confirms it. She still vividly remembers a time when she lived under a bridge in downtown Los Angeles with her mother and two brothers. She was eight years old. Her mother had struggled with substance abuse for as long as Flomanda could remember, and their world was often marked by transience, instability and hardship.
When she was 12, Flomanda tried drugs for the first time. Not long after, she was selling them to support herself and her family. In the following years, Flomanda experienced periods in and out of the system, and at age 17, her world was turned upside down when she gave birth to a baby girl.
A child herself, battling addiction, and uncertain of how to escape the only lifestyle she had ever known, Flomanda was not able to get on the right track until she found out that her brother had been killed while she was in prison. This trauma was the catalyst to build a different future for herself and her family, and Chrysalis was her winning card.
"My employment specialist told me not to second guess myself. She reminded me to always move forward, and she made me believe in who I am today," says Flomanda.
It is still in her memory the day she got a call for an interview from one of the Chrysalis partners. Before the interview, Flomanda sat with her daughter to practice answering potential questions. A quick trip to the resource room of Chrysalis headquarters ensured that she had interview appropriate attire, and a TAP card to cover the cost of transportation.
The interview went well, and a few weeks later she received an offer to start working with The Glendale BID, a storage site where LA's homeless can keep their belongings and documents safe.
Through a job and the right encouragement, Flomanda broke the cycle of poverty, addiction and criminal activity that had defined her for years, becoming the butterfly she deserves to be.
Latest Articles
A reflection on Pope Francis' apostolic exhortation on the family, Amoris Lætitia
"As a vocation, also fatherhood calls us beyond our children"