How Jewish, Christian and Muslim congregations in Maryland worked together to sponsor two Afghan families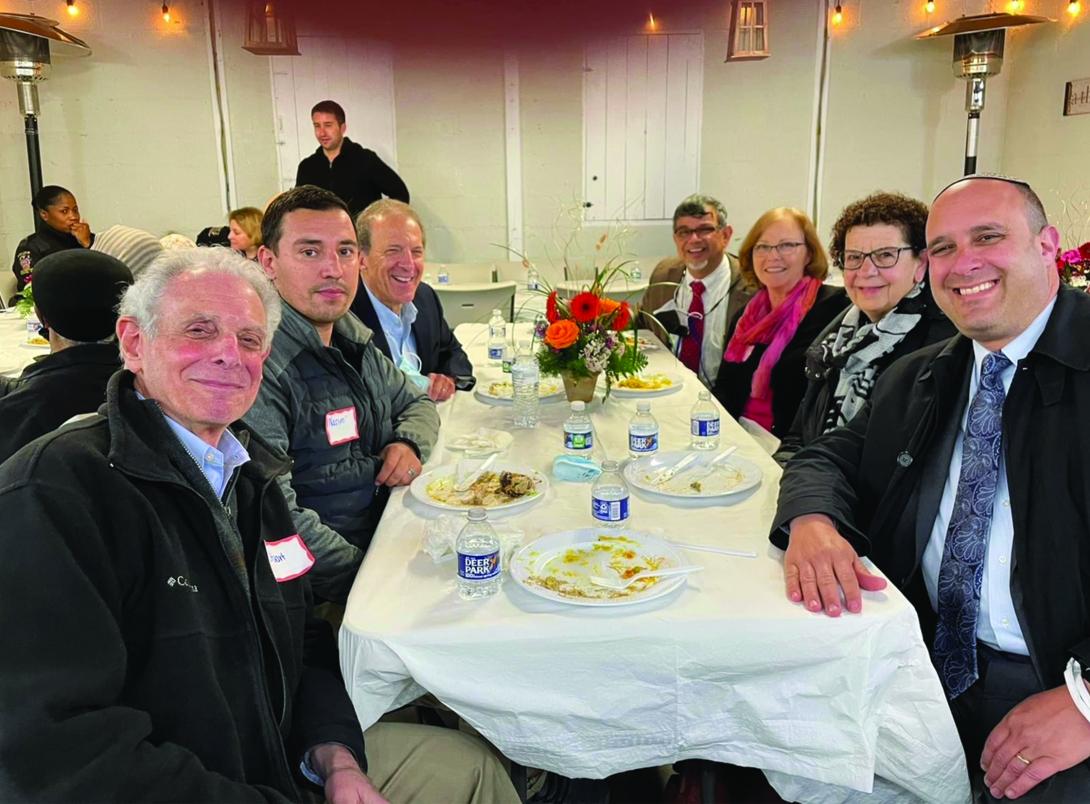 When Afghan people were airlifted while the Taliban took control over the country, many people were wondering how to help and what could be done to give them a future. But many of these good intentions never led to actions, since every day brings new sorrows and tasks that tend to drown out everything.
Several people from different religions in the town of Potomac, Maryland instead felt compelled to act. And what felt too big a project for one congregation to handle was possible together: they sponsored one Afghan family, and then a second.
A special sensitivity for refugees
Rabbi Adam Raskin, from the Congregation Har Shalom, could imagine how difficult it must be for the families who were uprooted and needed to rebuild their lives from scratch, since many Jewish families had made the same experiences. And when he heard that more than 3,700 refugees were assigned to the Washington, Maryland and Virginia area, he decided with his congregants to sponsor a family.
"This is what we thought we need to do," he said. "Many of us were refugees from places of persecution; there is a special sensitivity for this issue."
Yet as it needs a village to educate a child, a refugee family needs a community. Raskin reached out to the other faith communities in Potomac, with which he already had a good relationship.
An enthusiastic response
Rev. Mark Michaels from St. Francis Episcopal Church already had a "warm relationship" with Raskin. "I taught some classes at his synagogue, he's taught also here at our church. We meet periodically for coffee, and then he told me that a group in his synagogue really wanted to sponsor a family, but they were afraid that it would be too much for the community to handle on its own," he recalls.
Michaels took the idea back to his parish, and his people were enthusiastic about it. "We already had this idea before, but were also afraid that it would have been too much for us alone."
For all of them, it was also a practice much in line with their values, and very timely in the current political climate.
"We wanted to show the family what kind of country they've relocated to," he said. "This is a country where religions don't have to be at odds with each other, but actually where religious communities collaborate and find common ground."
Michael's congregants reasoned similarly. "Our parish janitor was a Vietnamese refugee who came to America after the end of the Vietnam War. So we've seen that people can come to our country from any part of the world and become such a valued and well-loved part of the community. And we welcome the opportunity to do that with people from a different part of the world, in the midst of one of the great crises now."
Funding another family
But the wave of charity did not stop there. After the first family, the Wahdats, arrived in January, a member of the synagogue was so enthusiastic about the project that he started funding another family.
The Nasins came soon after. Both husbands have already gotten their driver's licenses, all are enrolled in English classes, and the Nasins' children will start school soon—the 8-year-old in first grade, the 4-year-old in pre-K. The Wahdats have a 2-year-old daughter
There was a lot to organize—the faith communities had to raise around $25,000 per family to guarantee the rent for the first months, help with paperwork, and enroll them in English classes. Both families came with just a few bags—now both apartments are furnished and equipped. The children received toys and bicycles.
The communication was not always easy. "The Wahdats do not speak a lot of English—we needed to find a translator that speaks Pashto," said Raskin. Cultural differences play a role, too: when all communities gathered for iftar, the traditional breaking of the fast in Ramadan, one of the women didn't feel comfortable to join a mixed meeting of men and women.
"It will take time to adapt to a new culture," explains Raskin.
Both women are now taking online classes, and the husbands learn computer technology skills for future jobs. One was a translator for the American forces, the other worked in law enforcement before. Here their new situation requires them to start over.
Between mosque, church and synagogue
The congregations looked at what they could offer and picked some tasks. The church focuses on healthcare, identifying doctors and dentists willing to provide pro bono services for the family. The Islamic Community Center of Potomac, meanwhile, has been helping with translation and assisting with cultural needs, such as providing traditional Afghan clothing. The synagogue has been organizing transportation, legal and financial support, as well as helping the family to apply for food stamps and Medicaid.
The families settled in a small town around 20 minutes away, and while they were mostly welcomed by their new neighbors, they also experienced difficulties. When one of the men went for his driving test, one of Michael's parishioners went with him. "People were very harsh with him. And they failed him for different kinds of foolish reasons." The next time, the parishioner's husband, a police officer, went with the man. This time, he was treated with a lot more respect.
"Here you see the importance that the whole local community works together to integrate these families," said the reverend. We're drawing on people's experience and people's connections. I would hope that other communities can try to do the same thing."
It is for the good of all of society, because in this way, the first generation will already be able to really become a part of the American society.
The shared legacy of Abraham
For all three faith communities, the experience has been very positive, one that brings them back to their roots. Christianity, Islam and Judaism are all considered Abrahamic religions that view Abraham, a prophet, as the patriarch of their faith. The Bible highlights Abraham and Sarah's hospitality and their willingness to welcome strangers (Gen 18:1–10), who in turn promised that Sarah would conceive a son, despite both being advanced in age.
"That is perhaps the original bond between Judaism, Christianity and Islam," Raskin said. "We are kind of living out that legacy by collaborating in this way. I think the fact that we're doing this together is a beautiful example of what the best of this country can be."
"We do share the story of people of God with the people of Israel," added Rev.  Michaels. "Christians and Jews and Muslims have also received it in different ways, but the meaning is the same: we've been welcomed into the family of God. And so we should go out and welcome others, graciously sharing that grace being received."
They all agree that this project brought them closer together. "It is the Abrahamic tradition of hospitality. He is our common patriarch," explained the rabbi. And this project revived each of their faith communities.
Or, as one of Rev. Michaels' collaborators put it, "I have felt that we are not even different communities—we are all one."  
Latest Articles
An interview with Christopher White,  Vatican correspondent for NCR
Dietrich Bonhoeffer's journey to the center of the person
As we conclude the Year of St. Joseph, here's a reflection on Patris Corde, Pope Francis' apostolic letter on this multifaceted father and guardian of the Holy Family