What does a third grader, the King of England, and a butterfly have in common?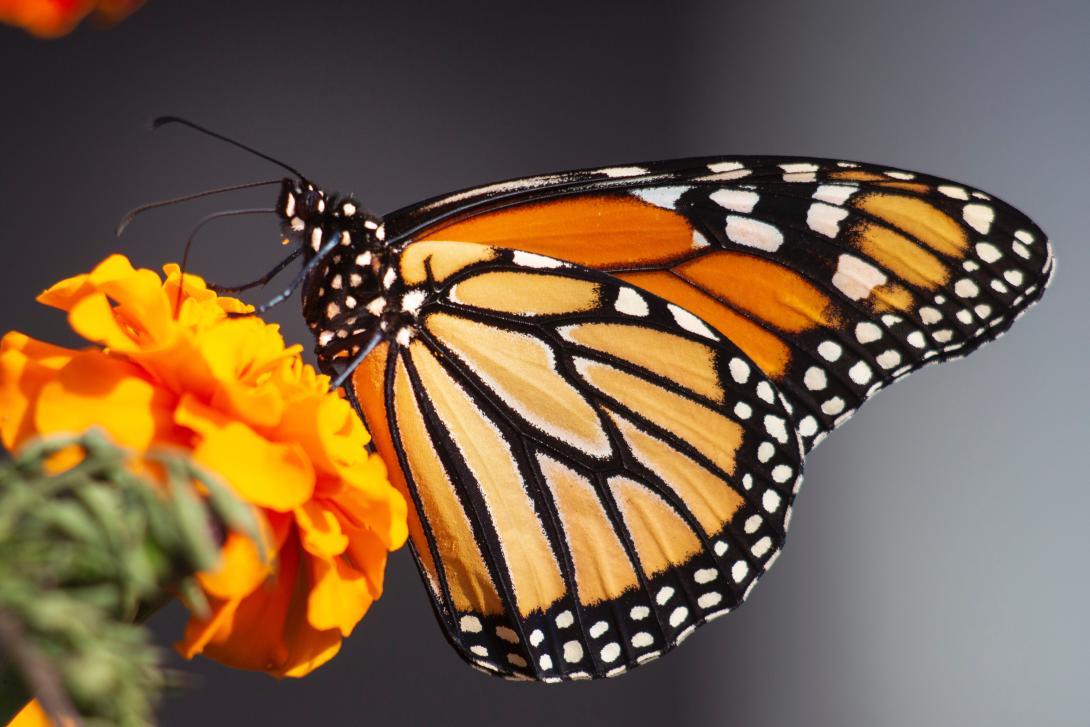 The Focolare way of life has taught us to always look for connection. We are formed to live one moment at a time, and seek unity in each of those moments. This can be a smile for a stranger; watering a wilting plant; tidying the house before leaving for the day. All things done with love take on a supernatural dimension. Here is our story of one of those ways….
I am a teacher's helper in a third-grade class at St Pius X School in Indianapolis, IN. Every year, the teacher, Mrs. Chris, involves her students in an environmental project, saving and appreciating the Monarch Butterflies an endangered species—due to the destruction of milkweed, their only food. 
Mrs. Chris forages through milkweeds in the fall and finds monarch caterpillars to bring to her classroom. The students then observe, feed, and nurture these insects, and measure and document growth along the way. They observe firsthand the miracle of metamorphosis as they often get to watch a butterfly emerge from its chrysalis. The students honor the butterflies by naming them, by making birth announcements. 
They also participate in a symbolic migration sponsored by an organization called Journey North. The class makes an ambassador butterfly to send to students in Mexico near the monarch's wintering grounds. In the spring, the students in Mexico mail the paper butterflies back to students who participated in the symbolic migration. 
Mrs. Chris' students have received butterflies this year from a wide variety of states! They felt so connected to kids across the country as they read the name of the school on the back of each paper butterfly! This helped her students feel connected to nature and to other students and countries who are also trying to preserve the monarchs.
This year, it happened that another Monarch, Queen Elizabeth II's funeral was around the time, our first butterfly emerged from its chrysalis. The children agreed the first monarch butterfly was to be named Elizabeth, to honor Queen of England. 
Succeeding her Royal Highness is her son, King Charles III. He began his environmental activism long before words like "sustainable," "organic" and "grass-fed" were trendy. King Charles' passion to protect the planet for future generations was highlighted during the six decades he spent as monarch-in-waiting. 
There is always a Jesus Forsaken in every unifying encounter. This is a given in the Focolare way of life. We see Jesus Forsaken here in the death of a queen, of someone's mother and grandmother. 
We decided as a class to write King Charles a condolence letter along with some pictures of the other Monarch...Queen Elizabeth II!!
We researched "How to write a King." Turns out there is a serious protocol to this seemingly straightforward task of a sympathy wish. We learned how cultures are different. People who are heads of state are addressed differently than our friends. 
By sharing our story with His Royal Highness, we encountered his story. The story of love and loss of a parent, and our shared project to help our environment.  We respect the traditions of others who are not like us. A country and culture that is not like the United States. 
Buckingham Palace receives thousands of letters each week. This was going to rise exponentially after the queen's passing.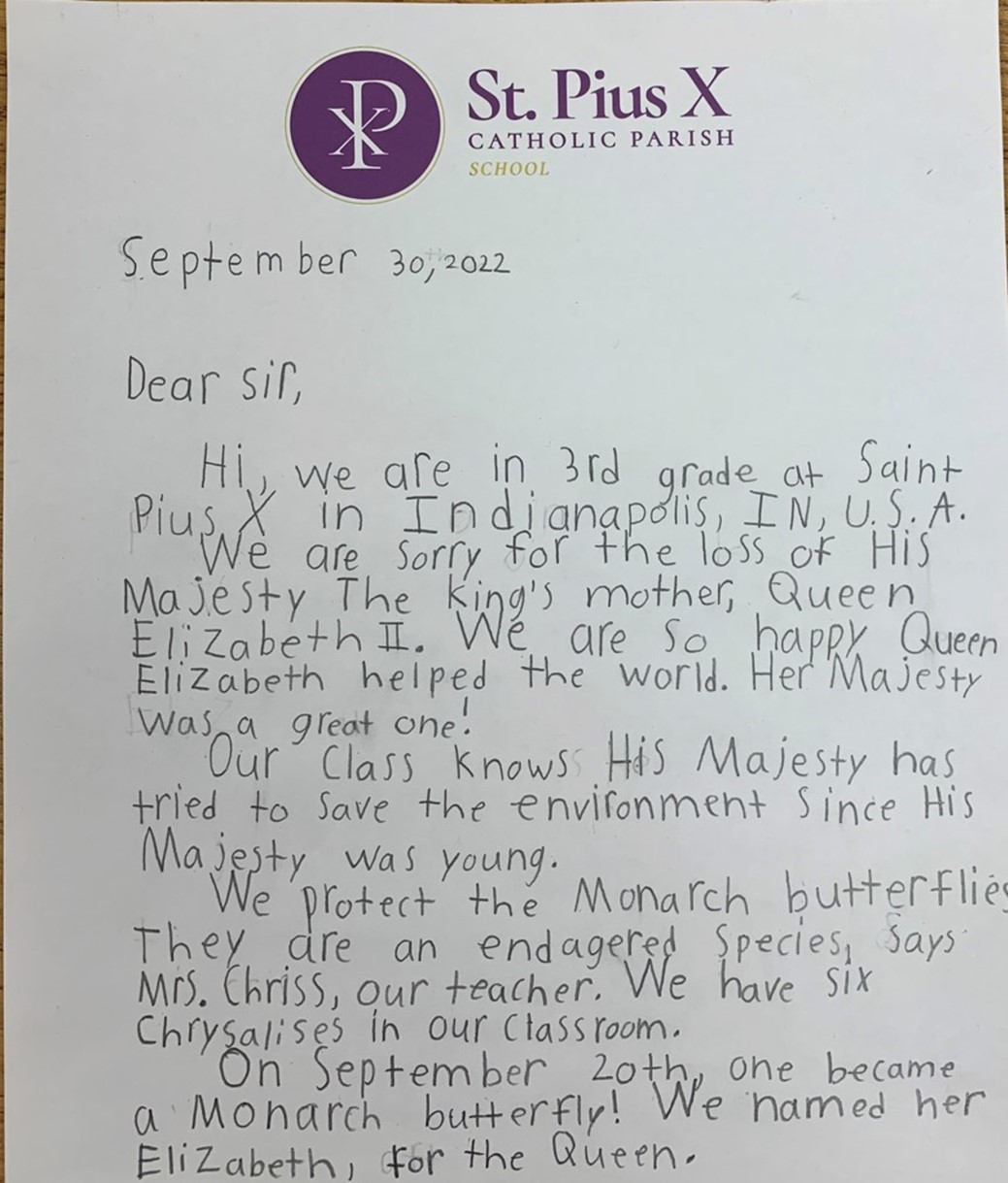 Well, about five months later, we received a response! A card from His Royal Highness and a beautiful photograph of him as a young boy and his mother (Queen Elizabeth) was sent to the third-grade class at St. Pius X School, here in Indianapolis. 
This is what the children wrote, in their own words, along with the photographs we sent to Buckingham Palace. And this is the response from Buckingham Palace and King Charles III.What an impact we make in each others' lives! This exchange between young children and one of the most famous men on earth! His Royal Highness could have sent a current photo in all the kingly splendor, but instead, he sent himself as a young boy with his beloved mom.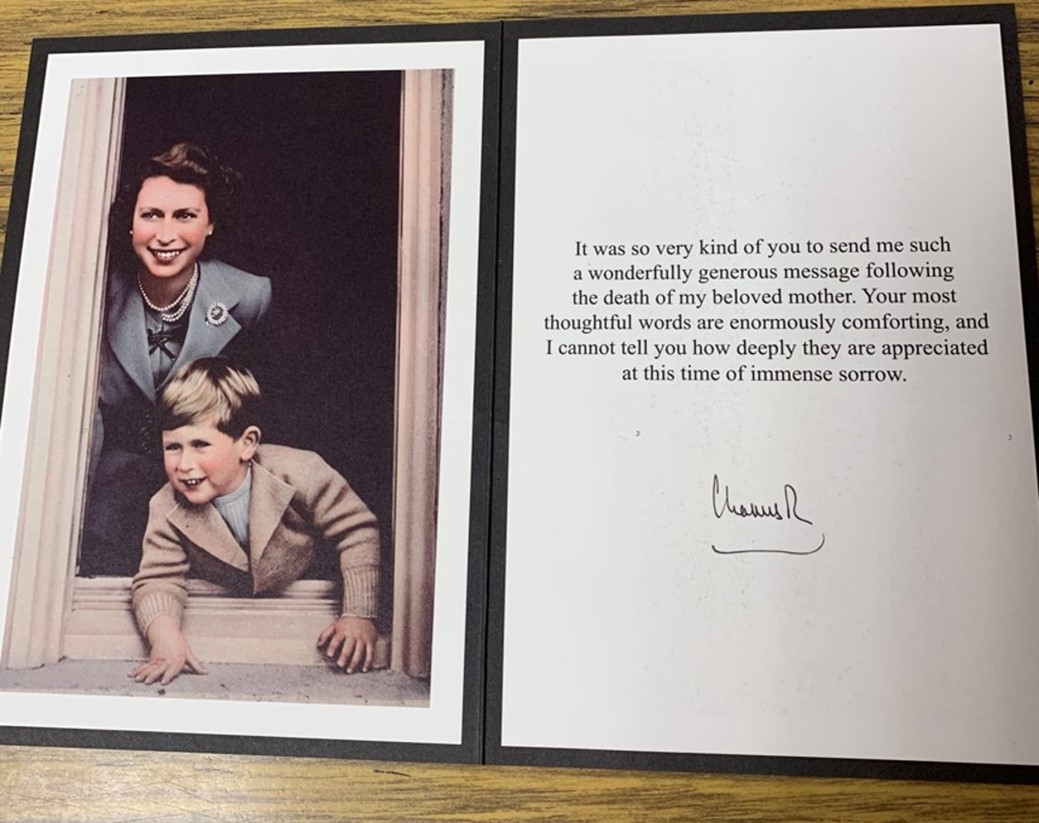 Latest Articles
"The eye through which I see God is the same eye through which God sees me; my eye and God's eye are one eye, one seeing, one knowing, one love," said the Christian medieval mystic Meister Eckhart.
An interview with Christopher White, Vatican correspondent for NCR
Dietrich Bonhoeffer's journey to the center of the person