Focolare founder Chiara Lubich on the Lord's Prayer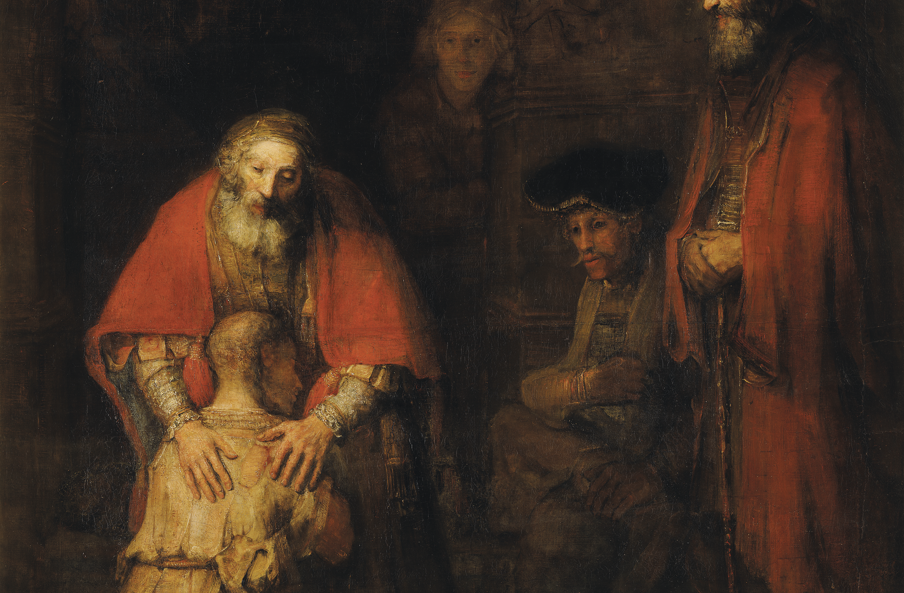 Now I would like to tell you… how our charism presented the Father to us… In some way, through this charism, God revealed himself anew for what he is: love, a Father…
And yet it was nothing other than the revelation of the Father as the Scriptures present him to us already in the Old Testament.
Remember how God is described in certain phrases? There's one that I always remember, that strikes me in a very beautiful way, where it says, speaking to the Hebrew people, that "even if a mother should forget her child, I will never forget you" (Is 49:15).
It's wonderful! This is the reality of God who is love that already began to shine out in the Old Testament.
But then there is the New Testament, and I think Jesus really makes us understand who the Father is in the parable of the prodigal son.
The two hands of a father
The other day, a focolarino gave me a short film explaining a Rembrandt painting, which is very famous, depicting the prodigal son—the father and the prodigal son.
The father has the hands of an old man, and he seems almost blind, looking at his son kneeling in front of him, barefoot… leaning his head on the father's chest. What you notice in this painting—besides the extraordinary beauty of the art—are the Father's hands on the shoulders of his son: one hand is rather strong, large, rough you could say; the other hand is gentler.
So, one represents the love of a father; the other, the love of a mother, to show that God—as Cardinal Martini [Cardinal Carlo Maria Martini (1927–2012), former Archbishop of Milan and renowned theologian] also says in a very beautiful letter about the Father—that God is both father and mother. He is not a father in the sense of masculinity. He is father and mother. And Rembrandt portrays him in that way.
Jesus shows us this father welcoming his son who came home. He not only wants to forgive him, but he wants to forget everything, giving him new clothes, putting a ring on his finger, calling for music, preparing a banquet for him.
This is really the love of a father, who all his life, ever since his son left, did nothing but wait for him. It was his prime concern, and when the son arrives home, he forgives him. He doesn't even want him to talk about the past; he forgets it; he wants him to be new.
This is God the Father; this is how he is. This is the way we have to think of the Father, this is the Father.
Welcome this love
So, we have to remember that we have a Father like this… I believe that he is pleased if we accept his love, even before loving him in return. He doesn't need our love—even though we have to love him—but what he needs is that we welcome his love.
And who tells us how much he loves us? Jesus tells us…
The Our Father has become something fantastic for me! When I say the rosary and get to the "Our Father"… Because I, you, we all feel the need to work for the kingdom of God, but what can I do, small and wretched as I am? What can you do? We need his help to bring ahead this revolution of love, to bring unity.
And so: "Our Father who are in heaven, hallowed be your name…" Help me to keep your name holy. "Your kingdom come" Help me, I can't do it alone. "Your will be done on earth as it is in heaven…" Help me do it! (Mt 6:9–10)
In all the "Our Fathers" that you say, ask, welcome this love of the Father who wants to help us. If Jesus told us this, it means that he wants it.
Of course, in our everyday lives we need many things: bread, clothes, forgiveness. We need help to overcome temptations, we need help to overcome every obstacle in life, and so there is the second part of the Our Father that is very beautiful, but I like the first part; I like the first part; we need the first part.
One of the things we need the most… is the Holy Spirit, and so Jesus tells us… "Is there any father among you who, if your child asked for bread, would give a stone?"(Mt 7:9) "Or if your child asked for an egg, would give a scorpion?" (Lk 11:12). It's really absurd! "If you then, who are evil, know how to give good gifts to your children, how much more will the heavenly Father give the Holy Spirit to those who ask him!" (Lk 11:13)…
All humanity, one family
Why then should we love the Father? Because we are called—and this is the last idea I wanted to say—we are called to make of all humanity one family. We'll do as much as we can, and then we'll leave something to do for those who will come after us. We have to make all humanity one family…
The Father loves everyone, good and bad—he said so. He sends rain on the good and on the bad, and so we too have to love everyone, be the first to love, and so on. Jesus died for everyone.
That's why Mary is very present also in other religions, because wherever the redemption of Christ reaches, Mary's motherhood also reaches, for everyone. And the Father is the Father of all since he sent his son to die for everyone.
If we do not have this reference point, how can we speak about humanity being a family? A father is needed to have a family.
So, my advice, my encouragement, my desire is that we all give great glory to the Father, welcoming in our heart all that he gives us: the worries that disappear, clothes and food that arrive, the Holy Spirit whom we need, all the graces.
And that we do this because this is what makes him happy. Yes, he is happy if we love him, but even more so if we welcome his love within us.
From a conversation in Malta with the Focolare members of Sicily, Sardinia and Malta, February 25, 1999
Latest Articles
"The eye through which I see God is the same eye through which God sees me; my eye and God's eye are one eye, one seeing, one knowing, one love," said the Christian medieval mystic Meister Eckhart.
An interview with Christopher White, Vatican correspondent for NCR
Dietrich Bonhoeffer's journey to the center of the person