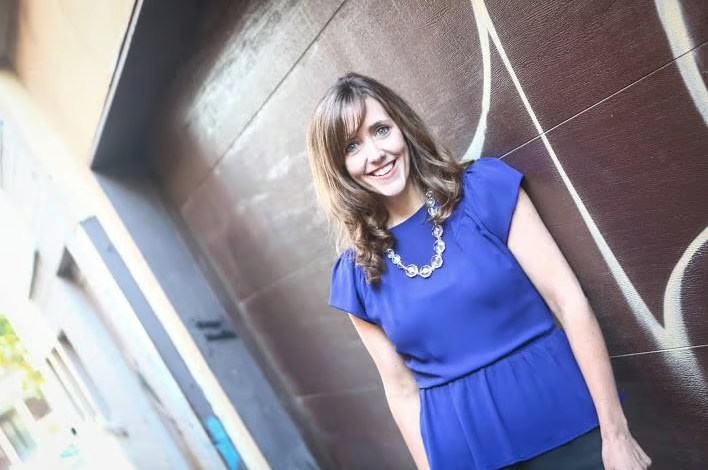 What does being a Catholic feminist mean to you?
Being a feminist, or being a Catholic woman, really means the embodiment of all the things that mean being a woman. So, I look at the blessing of motherhood as such an example of the full embodiment of what God created us [to be]. 
I think that women have a particular purpose, a particular value and a particular ability to transform the world. If we look at Mary and how she was able to transform the world through her simple "yes" — we have those yeses or those abilities every single day, to live out our life and live out our purpose and change the world.
That is a beautiful definition. However, how does our over-sexualized culture affect our vision of womanhood?
I have always seen this over-sexualized culture as actually being oppressive to women. In today's culture, there is such disrespect for women, for our bodies and for who we are as individuals. 
Seeing that trend in the culture is what really led me to chastity — especially as I began to understand chastity as the perfection of love. 
[Chastity is] not a list of dos and don'ts, but it's actually a yes, a willingness and openness to who we were really created to be. So, there's freedom that comes with that. We hear from society that chastity is very oppressive, but I actually see it as the opposite. 
Saint John Paul II talked about how freedom is not always to do what you want, but it is to do what you ought. And even living a virtuous life is sometimes doing what you ought, not just going and doing whatever you want. It is thinking about other people, not just solely about yourself, and thinking about the consequences of our actions.
When you share this vision outside the Catholic or the Christian world, do you have the impression that you are understood?
There are more people that understand it and agree with it than I think we see or hear from. Often when I have had interactions with people who may not be Catholic, or may not even be Christian or a person of faith in any capacity, when they are presented with this viewpoint, it gets them to stop and think about it. 
Our world and our lives are so busy, almost chaotic, and things are constantly changing — and changing so quickly. But that's why it's important for us to speak up and share our thoughts and beliefs with the world because amidst the chaos, we have more opportunities than ever to break through. And if you are open and willing to take a moment to stop and think, you might learn something or change your perspective. 
You are always going to get attacked for what you believe. If you stand up for anything, there are always going to be people who disagree with you. I tell many stories of that in my book, of different things that I stood for even as a child or a teenager and even as an adult. But there are always going to be more people who are positive or who agree with you — even if they don't say it. 
Through my Washington Post article [on chastity and feminism], I just got letters upon letters upon letters from women and men of all different ages who said that they agreed, many that were living a life of chastity too, and there were even some that said, "I'd never really thought about that." 
Could you explain what it means for you to live chastity and how it relates to being an independent woman?
To me, living a life of chastity has brought true freedom and authentic feminism into my life. It can be isolating to take a stand for what you believe and be willing to live a life that many may perceive as countercultural, but I've actually found such incredible sisterhood and community — and I attribute much of that to what I believe, who I am, and what I stand for.
Every single day, we hear people who are very outward about their dating lives, or we hear about celebrities' relationships. I write in my book many things that are personal and intimate. When I start to share, I'll hear people say, "I used to live my life in a different way, but now I realized that that wasn't fulfilling." To me, chastity has always been so fulfilling and empowering.
It definitely takes courage to speak up, but it takes courage for us to wake up every single day and live the lives that we are living. And sometimes you have to be really outspoken, but sometimes it is the quietness that speaks. We cannot discount the power of these little interactions where you share with one person — those can be just as powerful as a talk on stage, if not more so.
Definitely! Let me go to a related topic: self-esteem. A big question among young people, especially young women and teens is, "How can we build healthy self-esteem?" 
I think it is particularly difficult for girls and for women, and it is something we struggle with our entire lives, because we are never going to be perfect. And that's okay. 
But I think it is important for us to remember our uniqueness — not just how we look, but our unique talents and gifts. Sometimes we might wish that we had a specific talent… I wish that I could have been on American Idol — I sing, but I'm not that good and I own that. And I remind myself that I was given other gifts and talents. 
It can be easy to fall into insecurity. On social media, it's so easy to see "Oh, that person has so many followers, and this one is writing a book, and they are doing this…" and it looks like their life is so perfect. And here I am sitting by myself. 
I had a lot of things happen in a one-month period: my book came out, a short documentary that I made was nominated for an Emmy, and then I got engaged. Numerous people reached out to me and said, "Wow, everything is just going amazing for you." But they didn't see all of the difficult things that I had to overcome to get here or all of the stress, at the same time, I'm overwhelmed by all the things that are happening. 
None of us have figured it out. Of course, men struggle with these same things, too. Most people struggle with these things throughout their life. 
If I am struggling with self-esteem or any of those things, I will often take a moment and look at my fingerprint, and I remember that there has never been anyone like me. And there will never be anyone like me — we were created with such a unique fingerprint to leave on this world.
So how can our faith help us to build healthy self-esteem?
I think that our faith can be the foundation, a bedrock. These past two years have been so difficult for so many of us. 
I am thinking about the people who have lost loved ones. A girl I went to college with lost both of her parents from Covid in the past week. I cannot even fathom the pain and suffering that she and her family are going through. 
There are moments where we might not feel connected to the faith, or we might not feel God. Mother Teresa talked about how she had nine years of darkness, where she couldn't hear God's voice and didn't feel His presence in her life. I think most of us feel that numerous times throughout our lives.
Sometimes, if you are struggling in any way, if you are feeling sad or broken, go to the church and just sit there, sit there and be with Jesus or sit in front of the Blessed Mother and ask her to support you, pray for you, wrap her mantle around you. That's what I've done so many times throughout the past two years, where I just did not know what my next step should be… but I just sat in silence and prayed or meditated or journaled. 
Often freedom and emancipation are linked to giving women the same rights and opportunities as men. It is also often connected with abortion. What does it mean for you to be pro-life?
I have never seen abortion as being empowering toward women or being about freedom. 
I really strive to be consistent. I am also against the death penalty; I admire Sister Helen Prejean and everything that she is doing. On the other side of things, I believe that every life from the moment of conception is precious and deserves to be protected. 
In my book, I share my own personal experience because I was one of a set of twins. My twin's heart stopped beating, and doctors and even family members were encouraging my mom to have a D&C [abortion], which would have ultimately aborted me as well. Thankfully she didn't, my twin miscarried, and I survived.
But my heart breaks for so many women who don't feel they have options. And to me that is not empowerment. We need to stand up for our sisters and support them — in all of the chapters and stages of their lives.
In the end, these decisions are often driven by fear…
You mentioned a very important word, and that's "fear." Fear rules our lives, so we need to break free of that. We are so often plagued by worry and fear… worry about our career, others' perceptions, life decisions… 
But we cannot be led by fear. I think a lot of times we end up making missteps or having regrets because we were led by fear in a decision or life choice.
So, what advice would you give a young woman or a teenager on the way to become a strong woman?
I would say: "You were made for a purpose. You have value. No one is going to believe in you more than you believe in yourself. And of course, God believes in you. 
"So don't be led by fear. Don't be led by other people's decisions or thoughts about you. You were made for a purpose, and I cannot wait to see where your life goes from here."
If you enjoyed this article, you might like...
A Faithful Vision for Women in the Church and the World
Latest Articles
"The eye through which I see God is the same eye through which God sees me; my eye and God's eye are one eye, one seeing, one knowing, one love," said the Christian medieval mystic Meister Eckhart.
An interview with Christopher White, Vatican correspondent for NCR
Dietrich Bonhoeffer's journey to the center of the person