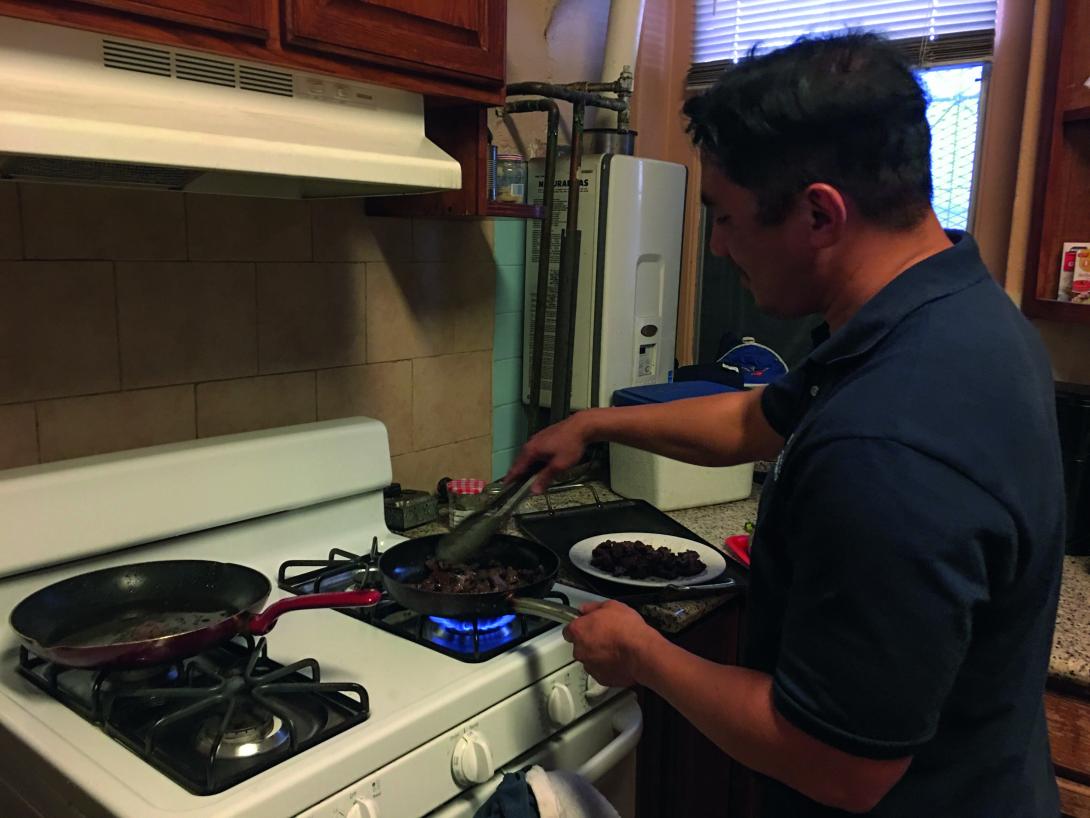 The border is a 30-minute walk away. Just over 3 miles. He looks at it from the first-floor window. He knows by heart the restless roar of the trucks waiting to cross it. The home of Ron Sibugan, an Assumptionist missionary, is on the frontier, where El Paso in Texas and Ciudad Juárez in Mexico look at each other closely: two twin cities separated by a river, a highway, and a sheet metal wall. Six bridges connect the two; however, they are not enough to sew the economic and social rift that puts both cities in the frontline of the tragedy of migration, of the fleeing thousands with few dreams left. I met Ron, while he was cooking for his community, and our interview began in front of the stove, smelling a delicious chicken adobo, a Filipino recipe.
Why did you decide to move to the border?
Until three years ago I was living in Boston at the comfortable Assumptionist Center, with the heat and air conditioning working perfectly. However, in my soul there was an inner restlessness. Pressed by the news on migrants, my congregation started a process of discernment about our mission and we came here to the St. Francis Xavier parish in El Paso. This border was the right place to question my identity too. I was waiting for a sign from above and that sign arrived here and pretty soon…
Which sign are you referring to?
We were having lunch with two other members of the community. "The restroom is clogged again," I said, when the water started to drip upon our heads. I got the phone to call a plumber when suddenly a splash of water came down from above together with the ceiling... there it was! It was so, so funny, and I understood that this half-ruined rectory was to be my new home. A home that since 2020 has welcomed more than 6,000 refugees, mostly coming from Central America, Russia, Turkey and Africa.
What does it mean to live at the border?
It means fighting every day against a sense of separation. That close metal wall is meant to separate strangers from me; instead it provides a different vision, because I see in their faces the face of God. They are my daily prayer. These human beings are already labeled terrorists, exploiters, drug dealers without having heard their stories. What about their humanity? Looking at them there are no borders, no barrier to separates us. No matter where they are from, or if their country is an ally or an enemy, I want to restore their dignity after so much suffering, cruel treatment and detention.
Did you have second thoughts about this choice to be at the border?
Yes, I had. When we first arrived in this rectory, I had many harsh experiences. It was wintertime, and there was no heat. It was so cold. The pipes leaked, the walls were moldy. I doubted that it was the right place. Fr. Peter, another member of the community, helped me and he encouraged me a lot in the midst of this suffering. Because I experienced the presence of a brother who was consoling me in my suffering, I was ready to console others and to show that God is present. He never abandons us, no matter how difficult our life is.
Do you remember a moment that changed your perspective?
The border teaches you to look beyond yourself, beyond any social and personal barrier, and to live with uncertainty. I thought of myself as a benefactor to these migrants; instead I became the beneficiary in many ways. I got a wall well painted by one of the guests; I received an envelope with two hundred dollars from another refugee to use for newcomers, or I found the floor of the rectory well cleaned. As a religious, I thought I knew what faith is: the migrants allowed me to touch it. They have lost everything. They had been tortured, and yet they repeat: "Without faith, I would never have made it."
Latest Articles
"The eye through which I see God is the same eye through which God sees me; my eye and God's eye are one eye, one seeing, one knowing, one love," said the Christian medieval mystic Meister Eckhart.
An interview with Christopher White, Vatican correspondent for NCR
Dietrich Bonhoeffer's journey to the center of the person