How couples contribute to the ecumenical movement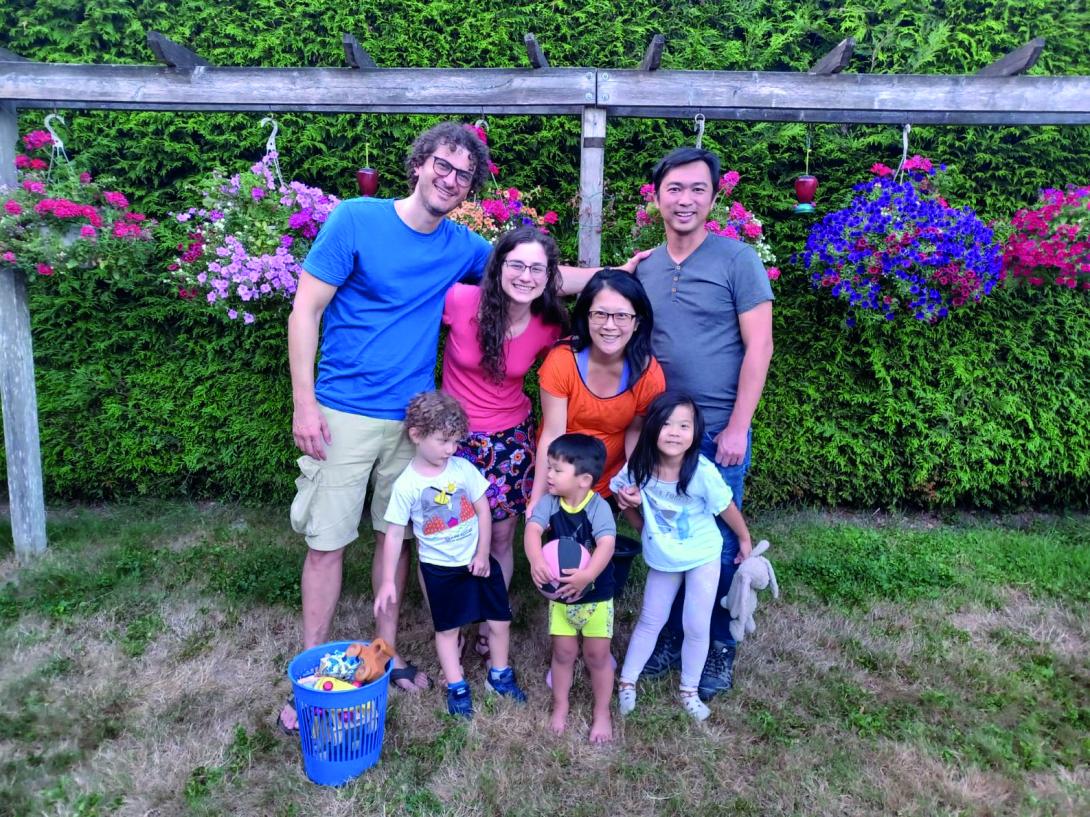 Recent popes have stated that "marriages between Catholics and other baptized persons… contain numerous elements that could well be made good use of… for the contribution that they can make to the ecumenical movement [when the marriage is] fully lived in the faith of the two Christian spouses" (Amoris Laetitia).
I got in touch with two such couples to learn how they are living their faith journeys.
Tommy and Colette were married nine years ago. When they met in high school in Vancouver, they realized that they had actually attended the same primary school in Hong Kong. Their family is growing: five-year-old Alice and two-year-old Daryl cannot wait for the arrival of their new sibling in a few weeks.
Colette is a cradle Catholic. Tommy did not grow up with any specific religious faith. While still in high school, he started attending the Baptist Church and, after a period of discernment, asked to be baptized despite his father's strong opposition. Colette supported his decision; when they had started dating, they had felt deeply that God had a plan for them.
Jubel and Helena met at a university in Brazil and moved to Canada seven years ago, soon after their wedding. They have a lively four-year-old son, Jonas. Like Colette, Helena is also a cradle Catholic. Jubel is Pentecostal, as is the majority of his family and over 20% of the population of Brazil.
Tommy and Colette reflect on their story. "Although we are both Christian, we couldn't quite find where we belonged. Early on in our relationship, someone told us that one of us had to convert to the other's church in order for this relationship to work. But that just didn't feel right."
Colette was inspired to deepen her faith and read the Bible, as this is one of the focuses of Tommy's fellowship. For his part, Tommy appreciates Colette's faithfulness to Sunday Mass no matter where they are.
"More and more, we saw the similarities rather than the differences," he says. "We felt we could learn from each other rather than being divided."
"After Alice was born, we had many conversations about Alice's baptism, as child baptism is not common in Tommy's church," Collette says. "What mattered was choosing the best for our child.
"We agreed to have her baptized but, perhaps more importantly, we agreed that we want our children to acquire Christian values—love of God and neighbor—and to know that, as baptized people, we all have to say our daily yes to God. And we also want them to know and love both of our faith traditions."
Jubel and Helena share a similar experience. "When we met at the university, we noticed that the topics of our conversation were always about living a life that matters and about loving people. We didn't know each other's traditions, but we could see that we had some things in common," Helena explains.
Jubel added: "There is a special element at play when the other motivates you to go deeper in your own faith, even when the other isn't from your faith. This is a great act of love which, when returned in a similar way, foments an increase in mutual understanding and appreciation of what is different."
Family members on both sides voiced their apprehension about their impending marriage. "For example, shortly before the wedding a relative of mine expressed his concern about how our children would be raised," Jubel recalls. "Helena and I trusted in our love for each other and chose to wait and cross that bridge when we got to it. When the time came, and after much prayer and dialogue, we decided to baptize Jonas in Helena's church and to present him at my church.
"Now we both attend each other's church every Sunday as a family, even as our discernment process continues."
And the children? "It turns out that we can learn a lot from their simple faith," Tommy confesses. He shared how, at dinner one day, Colette was talking about a tedious procedure that she had to perform on the specimen in the medical research lab where she works. That meant being alone in the lab for seven hours for three days. She said she felt very lonely.
Alice consoled her: "Mommy, Jesus and your guardian angel are with you all the time. You are never alone!"         
Latest Articles
An interview with Christopher White,  Vatican correspondent for NCR
Dietrich Bonhoeffer's journey to the center of the person
As we conclude the Year of St. Joseph, here's a reflection on Patris Corde, Pope Francis' apostolic letter on this multifaceted father and guardian of the Holy Family