What motivates Jenny Cam to "waste time" with her patients?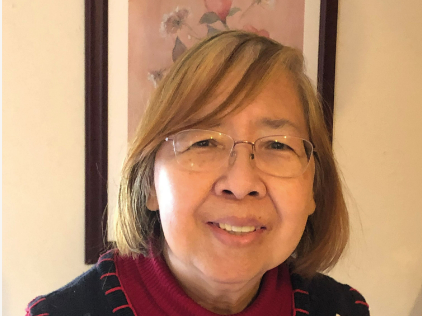 Jenny Cam is an unpretentious woman. With quick moves, she brings big bowls of the Filipino noodle dish pancit to the table, accompanied by a generous amount of spring rolls. Dressed in a sweater, lovingly accommodating the lunch guests, no one would think that she is a most esteemed expert in Endocrinology, winner of the title "Doctor of the Year" 25 times in a row.
For Jenny, practicing medicine is not about prestige but all about the patients. It was her dream from childhood, where her parents raised her with a lot of discipline, but also openness:
"As I grew older, it became very clear to me that it is not enough to care for a patient from the perspective of life and death and everything in between, but also that there is a profound blending of intellectual study with charity and wisdom" Being kind and compassionate and at the same time, getting the best knowledge and skills were her goal.
Studying to serve
An important episode happened in her college dorm, which was run by religious sisters. "I made fun of them, like saying, 'Instead of the nuns, we are the ones living the vow of poverty: our food is horrible while the sisters are having steak for dinner.'"
There was one young woman who was different. She didn't say much, but she left her a book about young people who wanted to bring about love and unity into all divisions and injustices of society. "This book turned my whole life around. I got to know the spirituality of the Focolare, and it changed the way I approached other people and eventually, my patients, trying to love them in the present moment."
When she finished medicine in the Philippines, she was assigned to a mandatory period of work in a poor rural area. "I fell in love with this work, so I went beyond the obligatory six months, up to two full years," she says. "I discovered that I studied medicine to serve."
At the age of 28, she moved to the U.S., to start her specialization in Endocrinology. It was a long journey, which led her to work in four hospitals in New Jersey and New York.
What fascinates her in the profession? "What I love most is the ability to help. In the sick, in those who suffer, I encounter Jesus crucified. I share with them my expertise—in very concrete ways, telling them how to administer the right insulin doses, making healthy food choices…"
"I see patients in four hospitals, I am very busy, but I try to take the time for each one, even if I don't get paid for the extra half hour that I take." Often they need discipline to take the medications prescribed and stick to a better diet: "I tell my patients 'you have to love yourself too,' not only paying attention to your family."
The need for reform
Amidst the many challenges in today's health care system, she sees as a major problem that everything has become a business. This leads to a system that does not benefit the patient: "Medications are very, very expensive. If someone has Medicaid, people have free access to medications, the state pays for it. But the working class and those who receive Medicare have tremendous copayment for their medications So there's a lot of injustice, and reforms are needed." There might be a light at the end of the tunnel: Different physicians' organizations and politicians have introduced bills in Congress to lower the price for insulin.
This and other situations reveal the dilemma in the U.S.: "We have the best doctors and advanced methods to cure and treat diseases, but many people cannot afford it," she states. Compared to Europe and Canada, it is expensive to age: "I know some patients who want to retire in Italy because there's free access to medications."
Jenny would not be herself if she just stood still, watching these problems. She has promoted Diabetes wellness events, in collaboration with the mayor, her colleagues and local hospitals. She used a place in the middle of the town; people could just walk in to get to know everything about diabetes—all types of glucose testing and nutritional counseling. And then there were lectures, a buffet of healthy foods, a nutritionist who would talk about food portions. They were a great success, and people in other cities and counties repeated these events for many years.
Doctor of the Year
In all these endeavors, she puts the patient at the center—even if that means to work without pay. "Usually, the insurance companies want you to spend 15 minutes with the patient. I spend at least half an hour or 45 minutes with each one, I spend time with the family and  caregivers...
She is aware that she works more hours for less money. But if it's to serve, the time is well spent.
Her colleagues in clinical practice both in the office and hospitals have recognized this and so she has been nominated as one of the Top Doctors in Endocrinology, Diabetes and Metabolism (Castle Connolly) in the New York Metro Area every year since 1998 till the present time. "I'm humbled about all these awards," is her only comment.
Does her faith impact her work? "I certainly think that faith is more than going to Mass, or praying the rosary… It's embracing the other person's suffering as an aspect of Jesus crucified on the cross." And in that, the patient is cared for … and loved
Latest Articles
An interview with Christopher White,  Vatican correspondent for NCR
Dietrich Bonhoeffer's journey to the center of the person
As we conclude the Year of St. Joseph, here's a reflection on Patris Corde, Pope Francis' apostolic letter on this multifaceted father and guardian of the Holy Family